Hot water is more effective in stain removal from carpets, therefore, carpet cleaners with an in-built water heater like BISSELL ProHeat 2X Healthy Home Full Sized Carpet Cleaner are more reliable and ensure maximum stain removal.

That's not all you get from this pro-heat healthy-home carpet cleaner. You are able to deep clean your carpet with powerful surround suction and the magic of dual brush rolls that makes dirt removal very simple.
It features custom settings for heavy stained areas and faster carpet drying. The full-sized carpet cleaner also comes with very useful tools for extra cleaning and removing even the most stubborn stains.
Features of Bissell ProHeat 2X Healthy Home 66Q4 Carpet Cleaner
Built-In Water Heater

As I mentioned earlier, if your carpet cleaner can provide hot water whenever you need it, you are assured of maximum cleaning with excellent results. This BISSELL carpet cleaner has been constructed with an in-built water heater to supply constantly heated water. It also ensures you receive occasional hot water in case you choose not to heat your water continuously.
Dual Brush Rolls
Dual brush rolls mean that you can get your carpet cleaner more easily and faster. This creative technology makes this carpet cleaner a must-have for homes with a lot of activities that lead to heavy stains on your carpet. You get the chance to get rid of dirt and stains for good with this healthy home carpet cleaner.
Multi-Function Custom Settings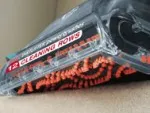 The custom settings this cleaner has allow you to pick the right mode for whatever you need to do on your carpet. You can clean light and heavy stains with their specific separate modes, as well as enjoy the carpet drying mode. These settings also determine the amount of detergent required for cleaning different spots depending on the weight of stain traffic.
2-in-1 Water Tank
It has a 2-in-1 water tank that stores clean and dirty water separately for better cleaning results. Unlike most carpet cleaners, these two tanks are designed as one for convenience and give the cleaner an easy to store construction. You will always be pleased with the cleaning results every time you use this full-sized carpet cleaner.
Useful Accessory Tools
Apart from its great functionality and ease of use and maintenance, this carpet cleaner is accompanied by several important tools for extensive cleaning. Including a Spraying Crevice tool, TurboBrush, Stair Tool and so much more, cleaning carpet and upholstery are made easier.
PROS
Works perfectly well on all floor surfaces
It includes very helpful extra cleaning tools; like the tough stains tool
Constant water heating for maximum cleaning
Wide cleaning maximizes cleaning and makes regular cleaning quick
Flow indicator inclusion makes it user-friendly.
CONS
This cleaner is prone to problems and gets faulty easily.
Features at a Glance
Surround Suction
Tough Stain Tool
DirtLifter Power brushes
Spraying Crevice Tool
Frequently Asked Questions (FAQs)
Q: Has anybody used this cleaner on furniture? How effective is it?
A: It works perfectly on furniture, at first I was afraid of the furniture getting wet but it did a great job.

Q: Are the clean water and detergent tanks separate?
A: The cleaner comes with a separate water tank and detergent tank. There is a solution tank on the back.
Q: Can you use the cleaner for regular vacuuming without a cleaning solution or water?
A: No you can't. The machine is designed to use the return water tank to keep dirt contained. If you are not using water, you will be sucking debris into the motor.
Final Verdict
If you are looking for a powerful motor and a full-sized carpet cleaner that will make your daily home cleaning achieve great results always, you have to consider this Bissell ProHeat 2X Healthy Home 66Q4 Carpet Cleaner. Every single use leaves your carpet, stairs and upholstery sparkling clean and sanitized.
This carpet cleaner makes your home more comfortable and freshened. It gives you an opportunity to live in a healthier and dirt-free house. It is exactly what you should purchase for maintaining your precious carpet and much more items around your home.